What We Do
Care to Learn International is a Kenyan Non-Governmental Organization (NGO) established by Kenyans for the benefit of fellow Kenyans.  It exists to empower Kenyans with life and leadership skills so that they, in turn, may lead, inspire and train others.
Our program emphasizes development rather than relief and self-sustainability rather than dependency.  We seek to pass on sustainable skills and technologies so that Kenyan men and women will be able to sustain a life that is balanced and productive being able also to transfer sustainability to others in their communities.
E4Program – EXHIBIT ▪ EDUCATE ▪ ENABLE ▪ EMPLOY
Training Opportunities That Make a Difference
This program will exhibit appropriate technologies, high-yield gardening techniques, medicinal and nutritional plants, water preservation and filtration, low-cost efficient construction methods, indigenous landscaping and alternative energy forms in use at the Care to Learn Conference Center in Matasia, Kenya.  The Center will serve as a base to educate the community in all the exhibited skills as well as education in the areas of health care and prevention, micro-enterprise, food preservation, adult literacy and computer skills.  The Center will also enable the community in implementation of the skills with hands-on assistance, resource development and follow-up programs.  Finally, as a community business, the Center will seek to employ and train community members in the work of the Conference Center itself.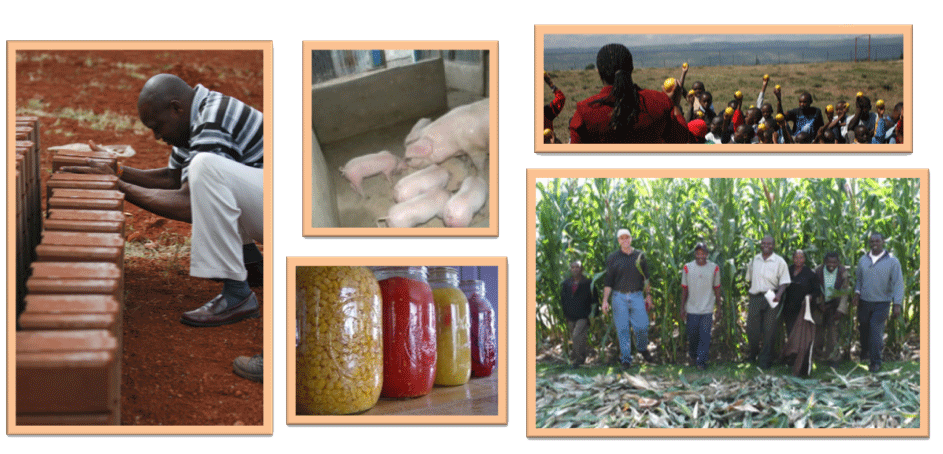 E4Program….
Focusing on appropriate technologies and methodologies in the following areas:
Building Construction & Water Technologies

Gardening: High-Yield; Urban; Medicinal and Nutritional Plants
Food Preservation and Preparation
Business Principles & Skills/Micro-finance & Micro-enterprise